A Healthy Lawn in the Spring Means Aerating & Overseeding in the Fall
A great way to give your lawn the best chance of entering the spring season in great shape is to aerate and overseed it in the fall. Aeration is the process of pulling cores of soil from the ground to alleviate compaction and improve your lawn's access to vital nutrients. Meanwhile, overseeding involves spreading grass seeds on your lawn to bring in new growth and fill in any bare or thin patches. You need to schedule these two services in the fall to yield the best results. Cool-season lawns in Pennsylvania are stronger in the fall and can better withstand the stress of aeration, and the seeds that will be spread during overseeding will have ideal conditions to germinate. That way, your lawn can get into its best shape to withstand the cold winter temperatures and enter the spring season in tip-top condition.
---
What is aeration, and what will it do for your lawn?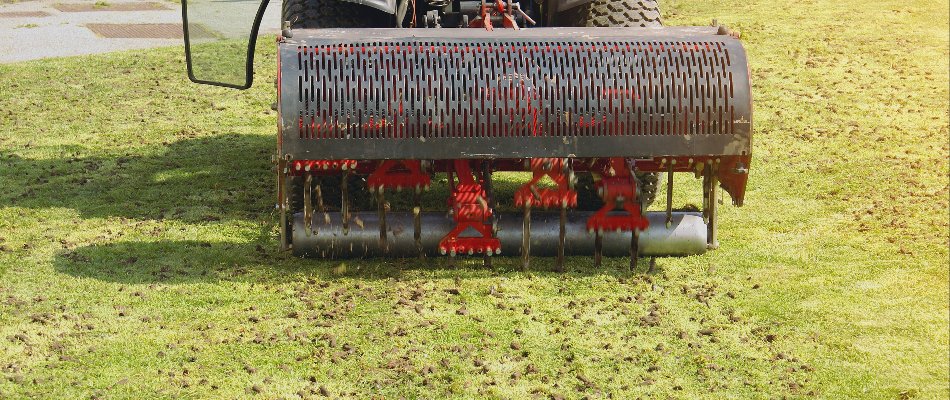 Aeration is the process of pulling up around 2 to 3-inch-long cores of soil from the ground to relieve compaction. Your soil can become compacted because of various causes, like too much foot traffic, frequent lawn mower use, and heavy rain compressing the soil pores together. When the soil is compacted, nutrients have difficulty penetrating the ground, which means your lawn cannot access the resources that will bolster its health.
By aerating your lawn, hundreds of tiny holes are created in the ground to provide channels for nutrients, water, air, and sunlight to easily reach the roots of your grass. With improved movement and access to these vital resources, your lawn can use them to grow strong and healthy. Core aeration also promotes the development of deeper and more robust roots, enhancing your lawn's resistance to stressors.
---
What is overseeding, and what will it do for your lawn?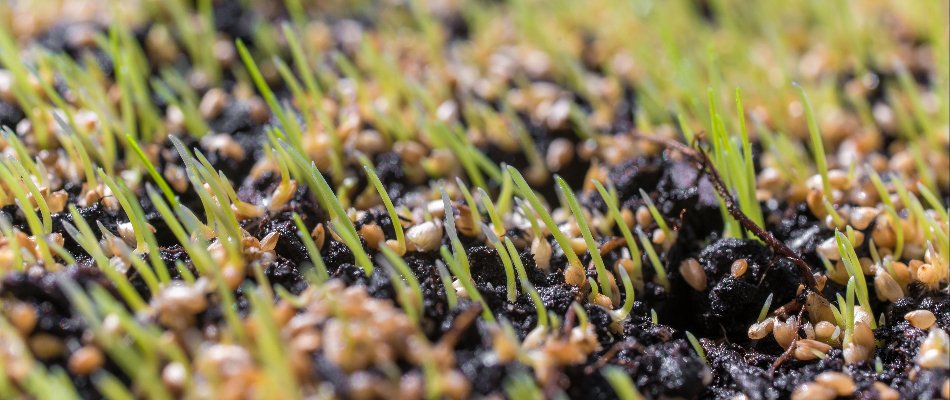 A patchy lawn is an eyesore and can bring down your property's curb appeal, but you can make it lush and dense through overseeding. Overseeding involves spreading grass seeds on your existing lawn to promote new growth and fill in thin or bare patches. It is a great way to make your lawn fuller and more attractive! More than enhancing its aesthetics, overseeding helps to strengthen it, too. By increasing turf density, it can crowd out weeds and build up resistance against stressors like insect infestations and diseases.
---
Why You Should Schedule Aeration & Overseeding in the Fall
If you want a healthy and beautiful lawn in the spring, you'll want to schedule aeration and overseeding in the fall. The process of core aeration can be invasive and put a certain stress on your lawn, so you want to perform this process when it is strong enough to endure it. For cool-season grasses, they will be at their strongest during the cooler fall season. Overseeding should also be performed in the fall because it'll provide ideal conditions to promote their rapid and healthy development. Following overseeding directly after aeration will give the grass seeds holes to fall into and get excellent seed-to-soil contact, plus access to the nutrients they need to germinate and flourish! When performed together in the fall, your grass will have everything it needs to survive winter dormancy and welcome the spring season healthy and looking its best!
Aeration and overseeding should be scheduled annually to maintain the optimum health and appearance of your lawn.
---
Take your lawn to the next level by scheduling our core aeration and overseeding services. Call us today!
Here at Lehigh Valley Lawn, we have been helping property owners achieve a thriving and beautiful lawn since 2001. If you want to ensure the health of your grass in the spring, schedule our core aeration and overseeding services this fall! We use a professional-grade aerator machine to remove the soil cores and offer high-quality fescue and Kentucky bluegrass seed blends. Our team offers these services to commercial and residential properties, as well as HOAs, in Macungie, East Greenville, Fogelsville, PA, and nearby areas. Call us today at (484) 547-8246 to schedule our core aeration and overseeding services.
---
Comments (0)
Name *

Email (not shown) *

Thanks for your comment!
Thanks for your feedback! Your comments have been successfully submitted! Please note, all comments require admin approval prior to display.
Error submitting comment!
There is a problem with your comment, please see below and try again.