Grub Control Services for Properties in & Around Macungie, East Greenville, & Fogelsville, PA
We offer both preventative and curative grub control treatments.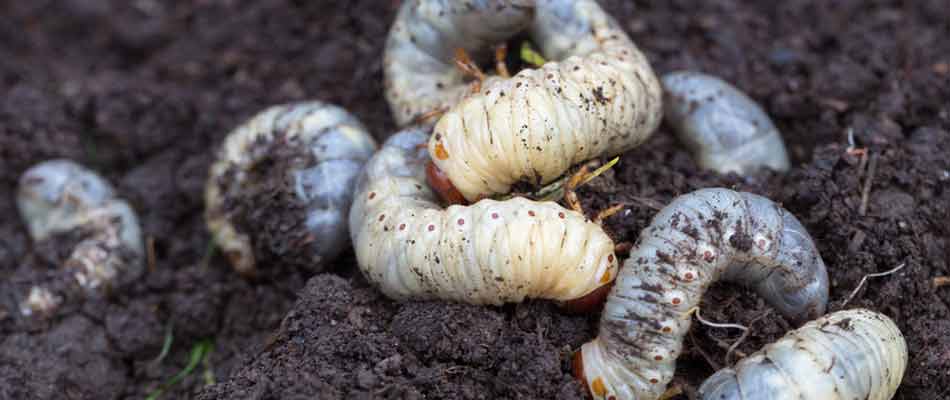 Grubs are relentless lawn insects that can cause extensive damage to your lawn. These beetle larvae rely on the roots of your grass as their main source of food. Because of this, they will eat their way through your lawn until all of your roots have been chewed away. Fortunately, though, our company has created both preventative and curative treatment programs to save your lawn from the damage that this could cause.
At Lehigh Valley Lawn, we see a lot of lawns in the Macungie and East Greenville, PA areas affected by these pesky larvae. It is so important to get ahead of the game and apply preventative products to reduce, if not eliminate, the grubs in your lawn. However, if you skipped the preventative treatments this year and are starting to see the tell-tale grub damage signs, contact our team immediately so that we can set you up with our curative solution.
---
Preventative Grub Control Will Save Your Lawn From Extensive Damage
The key to grub prevention is knowing the right products to use and exactly when to use them. If you wait too long to schedule a preventative treatment, grubs could already be hatched and eating away at your roots. The best thing you can do is apply the treatment before these larvae have hatched from their eggs.
Preventative grub control will significantly reduce, if not completely eliminate, the grubs on your lawn. This will save you a lot of money and time down the road. It is not uncommon for us to receive calls from property owners in the Macungie area after they have noticed grub damage on their turf and are in need of curative treatments. Although this is absolutely doable, it will take more time, effort, and money to save your lawn from the damage rather than prevent it from happening in the first place.
We apply our preventative grub control treatments during step 3 of our 6-step fertilization program (sometime between May 15th and July 1st).
---
Schedule Curative Grub Control Treatments To Prevent Further Damage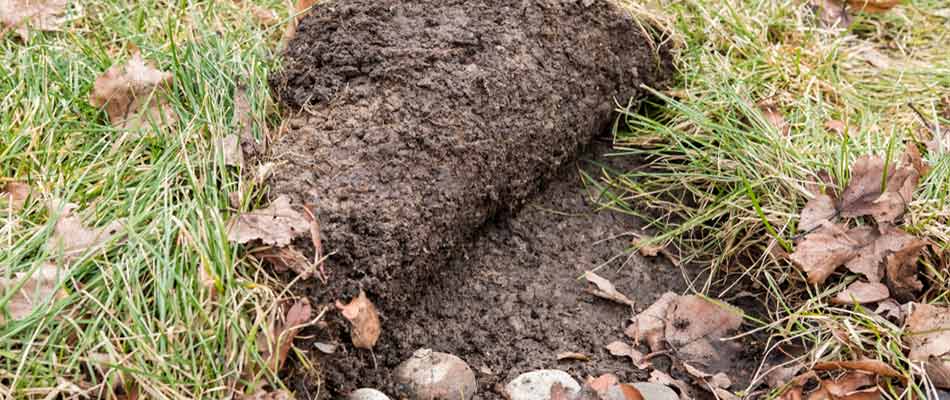 Did grubs find their way to your lawn? Don't fret - we've got a solution. It's so important to act on grub damage as soon as you notice it. Most healthy lawns can handle a few grubs here and there, but a lot of grubs at once means trouble. Call our company right away for curative grub treatments if you notice these tell-tale signs:
A spongy-feeling lawn. Since grubs feed on your roots, your grass will no longer be anchored to your soil. This creates a "spongy" feeling as you walk through your lawn.
Grass that rolls up like a carpet. Again, since your roots are no longer anchoring your grass to the soil, it will be easy to pull up a section of grass and roll it up as if it is a carpet.
If you don't stop grubs in their tracks, they will continue to eat their way through your lawn. This will result in more damage control down the line, so we suggest contacting our professionals as soon as you notice the signs. A curative grub control treatment will eliminate the grubs from your lawn, but it cannot reverse the damage that has already been done.
Our team can nurse your lawn back to health with aeration, top dressing, and seeding. If the damage is extensive, we can also install sod.
---
Don't wait until it's too late. Schedule your grub control treatment today.
Lehigh Valley Lawn will give you the best long-term, environmentally sound, and sustainable approach to grub control. No matter if you want to get ahead of the game and schedule preventative treatments or if you're noticing the signs of grub damage on your lawn, we can help. Our company provides safe and effective grub control treatments to the Macungie, Pennsylvania area including East Greenville and Fogelsville. Don't wait - call our office today at (484) 547-8246 to schedule.