We Offer New Lawn Seeding in Macungie, East Greenville, Fogelsville, PA & Surrounding Areas
We use premium fescue grass seeds to give you a new, beautiful lawn!
Lawn seeding offers a slow and steady way to achieve an outstanding future lawn. With a little elbow grease, your grass seeds will germinate, thrive, and give you beautiful green grass in only 6 months! When you sign up for our new lawn seeding service, we'll make sure that your grass seeds are spread on the right foundation and that they are fully protected before we leave your property. We will also show you how to care for your new lawn.
We use premium tall fescue grass seeds for each new lawn seeding project because we believe this type is best for the job. Schedule our service in the spring and fall to be well on your way to a new lawn! We proudly provide this service to property owners in Macungie, East Greenville, Fogelsville, PA, and in nearby areas. Call (484) 547-8246 today for a quote.
---
Our New Lawn Seeding Process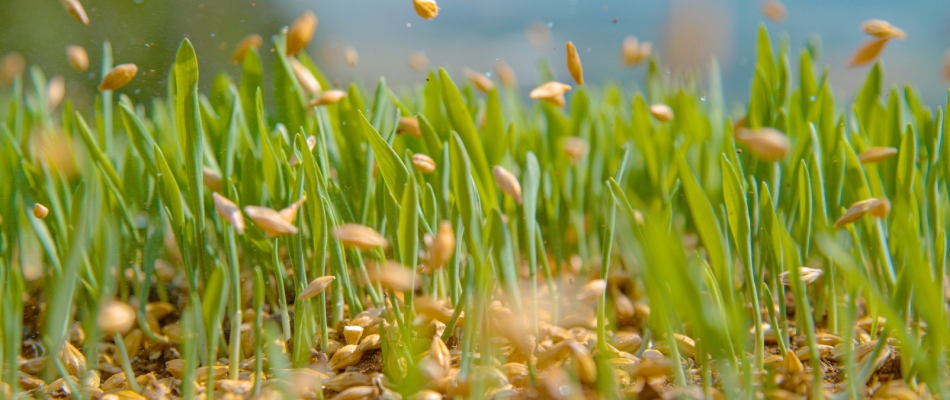 New lawn seeding requires the right amount of patience and care in order for there to be a good foundation for your future lawn. Our professionals can achieve this with our meticulous lawn seeding process. We'll make sure that your soil is the best environment it can be before scattering your new grass seeds. Here's our process at a glance:
Prep the soil. Before seeding can begin, we have to prep your soil to give the seeds the best environment to grow. We'll do this by removing old grass as well as any rocks, twigs, and other debris. We will also loosen up your soil so that the grass seeds are well-received.
Sow the seeds. Once your soil is ready, we can scatter the grass seeds throughout your lawn. We will walk your yard and ensure that the entire canvas is evenly covered with seeds so that your new grass grows consistently.
Apply the straw. Straw offers tremendous benefits in the new lawn seeding process, and our team knows how to apply just the right amount. Straw mulch retains water, so it will constantly keep the top of your soil moist and help keep the seeds from drying out.
Add starter fertilizer. The last step is to apply a starter fertilizer to your seeds. This will give them the boost of nutrients they need to help them germinate and ensure that they are well-protected.
You can schedule weed control alongside this service to help protect your vulnerable new seedlings from weeds.
---
The Type of Seeds We Use
At Lehigh Valley Lawn, our experts understand the importance of sowing premium grass seeds so that you achieve premium results for your yard. There are many different types of seeds out there. However, we've chosen to use a high-quality, tall fescue grass seed blend to seed new lawns. Fescue is great for starting new lawns for several reasons. It's a cool-season grass, which makes it perfect for surviving Pennsylvania's cold weather conditions. It also boasts high tolerance against heat and drought.
---
When do we offer our lawn seeding service?
We offer our new lawn seeding service in late spring and in early fall because the weather conditions for grass seeds are most optimal. Once it becomes too cold, the seeds won't germinate, and if it is too hot out, cool-season fescue will not thrive.
---
How to Care for Your New Grass Seeds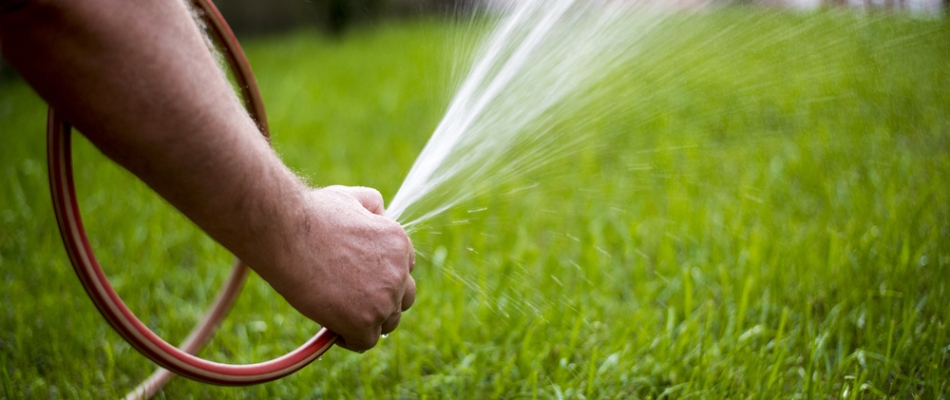 The best care that you can give your new grass seeds is to keep them hydrated and stay off of the soil. Start by watering the soil twice each day to keep the ground moist. Refrain from overwatering your soil, as this can cause the grass seeds to become weak and unhealthy. You should begin spotting new grass blades in your yard after the first 2-3 weeks. When this happens, you can reduce your watering frequency to 2-3 times each week - just enough for the soil to remain hydrated at all times. Your new lawn should be in full effect after just 6 months!
---
Call us today for our new lawn seeding service!
If you're looking for new lawn seeding in Pennsylvania, then we can help! Our high-quality tall fescue grass seed blend will give you the lawn results you're looking for. We offer this service in Macungie, East Greenville, Fogelsville, and nearby communities. Call us today at (484) 547-8246 to schedule!