Drainage & Grading in & Around Macungie, East Greenville, & Fogelsville, PA
Our hardscape designers can help you customize your drainage solution.
It can be frustrating for property owners when their land is sloped and therefore, does not drain water properly; improper drainage can also lead to standing water and flooding. This can cause damage to the foundation of your home or business, which often requires costly repairs. To protect your property and to prevent these issues from arising, you can take advantage of our drainage and grading services. At Lehigh Valley Lawn, we have been serving the homes and businesses in the Macungie, Pennsylvania area, including East Greenville and Fogelsville, since 2001. In addition to providing grading services, our professional landscaping team can help you design custom French drains or dry creek beds for your property.
---
Grading can save your property from foundation damage, pooling water, and flooding.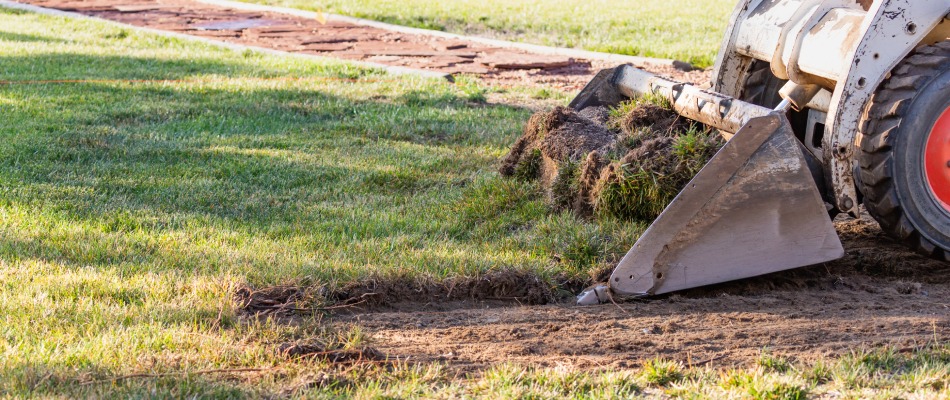 Some properties have land that is sloped towards the property owner's home or business. These are the kinds of properties that can benefit the most from grading services; this is because that sloped land can lead to pooling water and flooding, which often results in damage to the foundation of the home or business. When we grade your property, we can help you slope your property in the right direction for water flow. This way, water will be directed off of your property instead of towards it.
---
What kind of drainage solutions do we offer?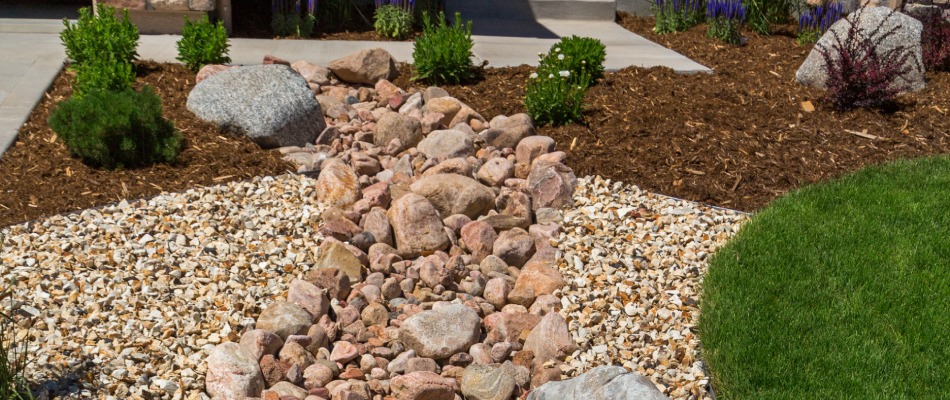 When it comes to repairing or preventing drainage issues on your property, we offer two main drainage solutions:
French drains: A French drain typically consists of a trench filled with gravel or rock that covers a perforated pipe that redirects both surface water and groundwater away from a specific area. A French drain allows you to promote proper water drainage on your property while maintaining the appearance of an aesthetically pleasing hardscape.
Dry creeks beds: A dry creek bed is a gully or trench usually lined with stones or gravel. While it will be dry most of the time, it functions as a miniature creek when it rains. This allows the rainwater to drain properly instead of flooding or pooling in certain areas of your property.
In addition to the functional benefits of dry creek beds, they also will add to the aesthetic appeal of your property!
---
We provide you with the opportunity to customize your drainage solution.
Drainage solutions such as French drains and dry creek beds can be just as beautiful as they are functional. This gives you the opportunity to design a hardscape that works with both your property's needs and your style. There are many choices to make when designing a drainage solution; it is up to you to choose which stones you would like to use, the shape of the drainage solution, or even what plants you would like to surround your drainage solution with. Our landscaping professionals will happily work with you to create a custom drainage solution that will make both a functional and aesthetically pleasing addition to your property.
---
Give us a call today to sign up for our drainage and grading services!
At Lehigh Valley Lawn, we offer grading and drainage solutions that will prevent water from pooling up on your property where it can cause damage. We offer this service to commercial, residential, and HOA property owners in Macungie, East Greenville, Fogelsville, PA, and throughout the surrounding areas. Give us a call today at (484) 547-8246 to schedule a consultation for our drainage and grading services.