We install water features in Macungie, East Greenville, Fogelsville, PA and nearby cities.
Choose from pondless waterfalls, water fountains, bubblers, and more.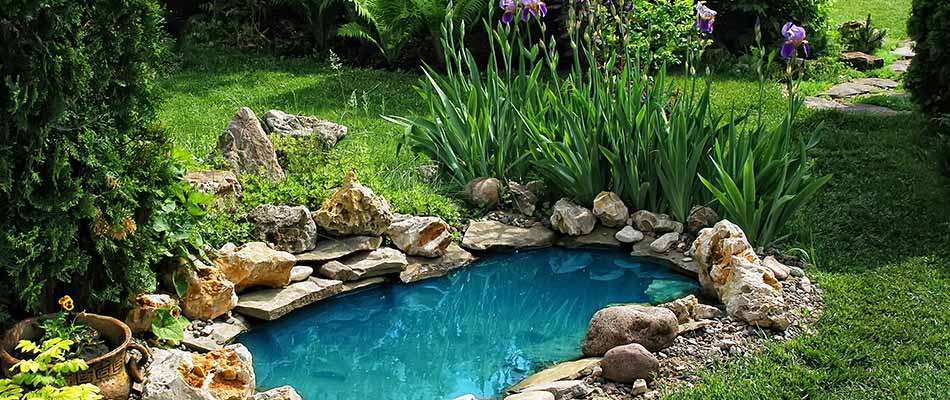 Outdoor living areas are primarily designed to provide homeowners with a relaxing space. Water features help make that possible. With tranquil scenery and soothing sounds, water features undeniably increase the aesthetics of your home or business while providing you with a peaceful environment.
At Lehigh Valley Lawn, we install water features for residential, commercial, and HOA clients in Macungie, East Greenville, Fogelsville, and surrounding communities in PA. You can choose to add pondless waterfalls, water fountains, bubblers, koi ponds, and full water gardens to make your property stand out from the rest. If you have a hard time deciding on one option, then our landscape designers can help you select the best fit for your home or business.
---
Types of Water Features We Can Build on Your Property
Depending on your style and vision, we can build water features that will be excellent focal points in your yard or provide a good accent to your entire property. Our expert landscape designers can also strategically place water features to widen a small space or create the illusion of a compact and cozy space for large areas. Check out the types of water features we can install at your home or business:
Pondless Waterfalls
Pondless waterfalls can be built in small spaces and still give you the feel of a realistic waterfall, with soothing sounds of trickling water. Pondless waterfalls rely on a water pump that is placed below the structure to ensure water circulation, deterring pests like bugs and mosquitoes. They are also kid and pet-friendly since they do not retain standing water.
Water Fountains
If you want a luxurious and grandiose water feature, then we can install a water fountain on your property. They are a good focal point for your landscape and can easily be customized based on the available space in your yard. Again, you won't have to deal with bugs lurking in your water fountain because there is no standing water for them to congregate.
Bubblers
The design possibilities for bubblers are endless. We can customize them to fit a small patio or create them from towering boulders to create a more interesting look. Bubblers can be small or showy, and they will still stand out on your property. They are also low-maintenance water features, so they are a great choice if you don't want to spend much time on upkeep.
Koi Ponds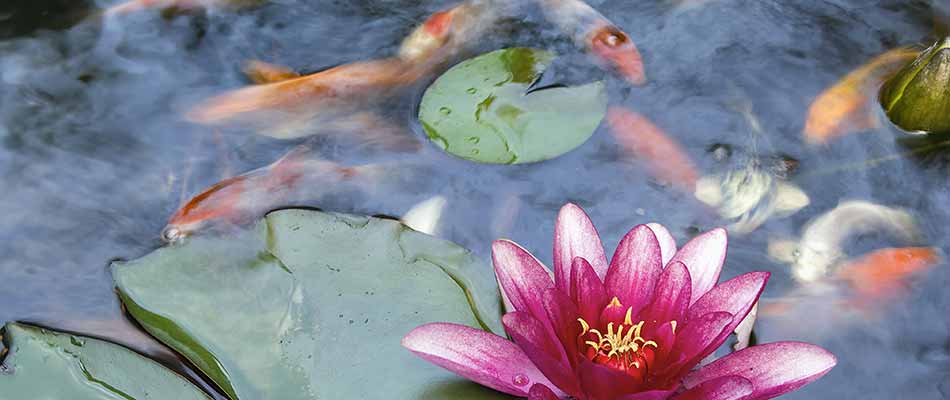 Install koi ponds in your yard to bring nature closer to you. You would need a large enough space for this outstanding water feature to provide the koi fish with sufficient room to swim around.
Full Water Gardens
If you want a water feature to be a focal point on your property, then we recommend installing a full water garden. The size of a water garden will depend on your property, but it can be built around a naturally available pond, or our team can artificially construct one for you. A full water garden will usually house aquatic plants such as:
Water hyacinth
Water lettuce
Fairy moss
Cardinal flower
---
Call today to get a quote for your new water feature!
Water features are great additions to complete your landscape design. They will improve your property's aesthetics and provide you with a tranquil environment after a hard day's work. Our team at Lehigh Valley Lawn can install big or small water features on your property in Macungie, East Greenville, Fogelsville, PA and surrounding communities. If you are in the market for a new water feature, call us today at (484) 547-8246 to get a quote!