Fall Cleanup Service for Properties in Macungie, East Greenville, Fogelsville, PA & Nearby Areas
Our fall cleanup service includes landscape bed maintenance, leaf and debris removal, trimming, and pruning.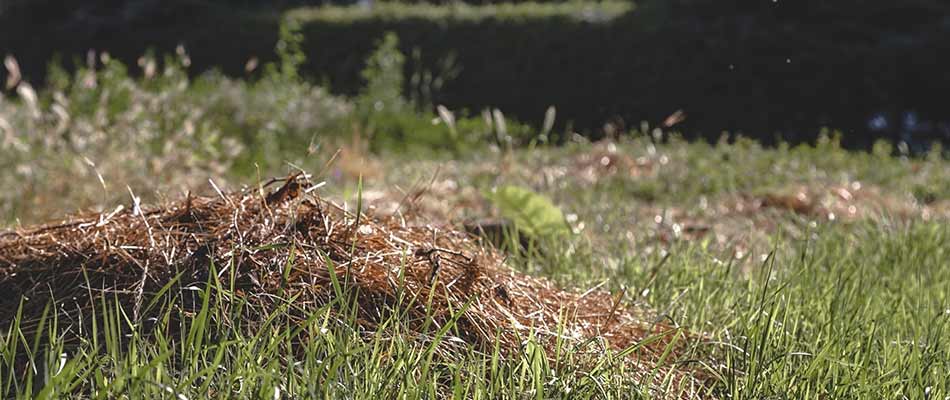 A fall cleanup is crucial not only for your landscape's appearance but for its health as well. Debris such as sticks and leaves need to be removed before winter sets in to avoid suffocating your grass and finding issues such as lawn diseases and insect infestations come springtime. Our fall cleanup focuses on removing all debris from your lawn as well as trimming, pruning, and landscape bed maintenance.
Our fall cleanup service is available for properties located in Macungie, East Greenville, Fogelsville, and nearby areas in Pennsylvania. With over 20 years of experience in the industry, we understand the importance of fall cleanups when it comes to the health of your grass and plants. You can count on our team to leave your landscape not only clean but also healthy and ready for the winter season.
---
Our fall cleanup service includes leaf removal, landscape bed maintenance, trimming, and more.
The fall season can take a toll on your property, with falling leaves, scattered debris, and overgrown shrubs. Our fall cleanup service takes care of all of that and more. We focus on making your property look pristine while also focusing on what your grass and plants need to prepare for the winter season.
Our fall cleanup service includes:
Leaf & Debris Removal - Our crew will clean up leaves and other debris that have accumulated on your lawn and in your landscape beds. We will remove everything that we collect from your property using our vacuum truck.
Landscape Bed Maintenance - We will pull the weeds in your landscape beds to ensure that they no longer steal nutrients from your desired plants. Then, we will tidy up your landscape beds by reshaping them and creating a clear distinction between your landscape beds and your lawn.
Trimming & Pruning - Our horticulturist will assess your landscape and determine what plants need to be trimmed and pruned. Your overgrown plants will be shaped to your liking and any sick or dead branches will be removed to ensure that the problem does not spread.
---
We offer our fall cleanup service from October until January.
You can schedule our fall cleanup service from October until January. When the leaves start to pile up, it's time for our crew to come out to your property to ensure that your grass does not get smothered. Be sure to call us and schedule your fall cleanup service as soon as possible to secure a spot on our calendar!
---
Why choose our team for your fall cleanup needs?
Fall cleanups are a significant aspect of maintaining your lawn and landscape. It's a service that benefits your yard in terms of its health and aesthetics, so you must choose a company that has the expertise to perform such tasks.
At Lehigh Valley Lawn, we have a highly-trained horticulturist on our team to look after your plants and give them the best care possible so they can flourish. In addition to this, our company has many quality assurance checkpoints to ensure that every job is done with top-tier quality and meticulousness. Providing exceptional service to the Lehigh Valley area since 2001 has given us the long-term experience and knowledge to exceed our customers' expectations every single time.
---
Call us to schedule our fall cleanup service!
Our fall cleanup services are available to HOA, commercial, and residential properties in Macungie, East Greenville, Fogelsville, and surrounding communities in Pennsylvania. Our dedication to providing high-quality services has allowed us to stay in the industry for 20 years. Let us serve you next! Contact us today at (484) 547-8246 to schedule our fall cleanup service.