Professional Lawn & Landscape Services in Center Valley, PA
We've been helping improve lawns and landscapes since 2001!
Center Valley is a unique community just north of Coopersburg in Lehigh County, Pennsylvania. Its biggest marker is the incredible Promenade Shops at Saucon Valley, the highest-end outdoor mall in Lehigh Valley. This mall is 480,000 square feet of shops, boutiques, restaurants, and even a movie theater to serve a full experience to anyone who visits!
Our company provides professional lawn and landscape services to commercial, residential, and HOA property owners in Center Valley and surrounding cities. We offer fertilization, leaf removal, flea and tick control, landscape bed maintenance, snow removal, and much more. Call our office today at (484) 547-8246 to get your quote!
---
Our Lawn Care Services: Fertilization, Weed Control, Overseeding, & More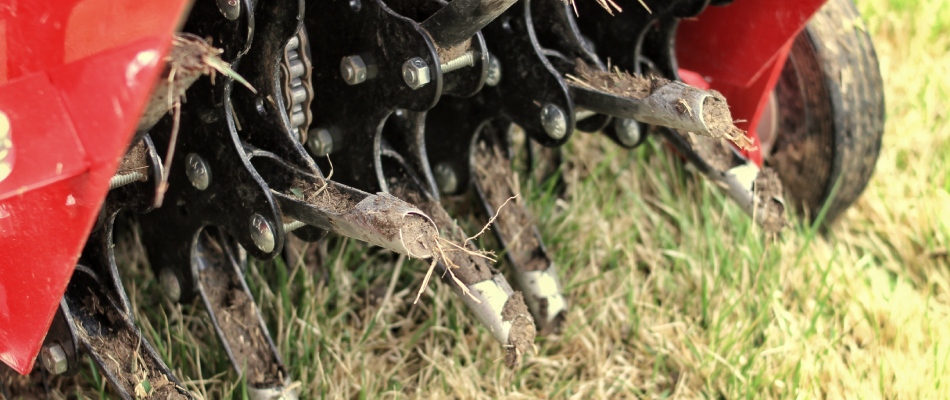 Our combination fertilization and weed control program offers comprehensive lawn care to nourish and protect your lawn. We'll use pre- and post-emergent weed control treatments as well as both liquid and granular fertilizer so that your grass is covered from every angle! We can help improve soil structure, decrease thatch, and dramatically increase the effectiveness of fertilization with our liquid or core aeration services. We also recommend scheduling our overseeding service once or twice a year to foster a perfectly lush lawn.
We can nurture new and existing grass with our lawn restorations, and also offer new lawn seeding and sod installation for lawns that need more of a fresh start. Our team can defend your lawn from insects and diseases, including snow mold, crane flies, red thread, Japanese beetles, grubs, sod webworms, and much more.
---
We provide lawn and landscape maintenance services including mowing, mulch installation, and more.
Our team members are dedicated to keeping your lawn and landscape pristine with our maintenance services, including our expert lawn mowing program! We'll mow, trim, edge, and blow to achieve the well-manicured lawn of your dreams. Our professionals can remove leaves and trim and prune your landscaping plants, ensuring they don't become overgrown. We also offer landscape bed maintenance and mulch or rock installation so that your beds can look as stunning as the rest of your property!
---
Our Seasonal Services Include Snow Removal, Spring Cleanups & Fall Cleanups
We've got all the seasonal tasks covered with our services! In winter, you can cross off snow removal from your chore list. We offer custom snow removal programs specific to the triggers, tolerances, and level of service you prefer.
Spring and fall in our area bring along with them a host of debris, leaves, and other things that result in a messy landscape. We offer both spring and fall cleanups to attend to and polish your property's appearance, upping your curb appeal and helping to avoid any long-term complications from debris build-up.
---
Call our team today to schedule any of our expert lawn and landscape services!
Our team at Lehigh Valley Lawn operates on five core values: dedication, integrity, service, growth, and loyalty. You can rely on us to use these values as guiding lights in every decision we make and every action we take. We will never cut corners to make our jobs easier. While we're always looking for ways to improve our services and make them more efficient, we'll never do so at the cost of quality. And that's our promise to you! These services are available to property owners in Center Valley, PA and nearby cities. Call (484) 547-8246 today to schedule any of our expert lawn and landscape services!