We Install Landscape Lighting to Properties in the Macungie, East Greenville, & Fogelsville, PA Areas
Choose from a variety of design techniques like spotlighting and path lighting.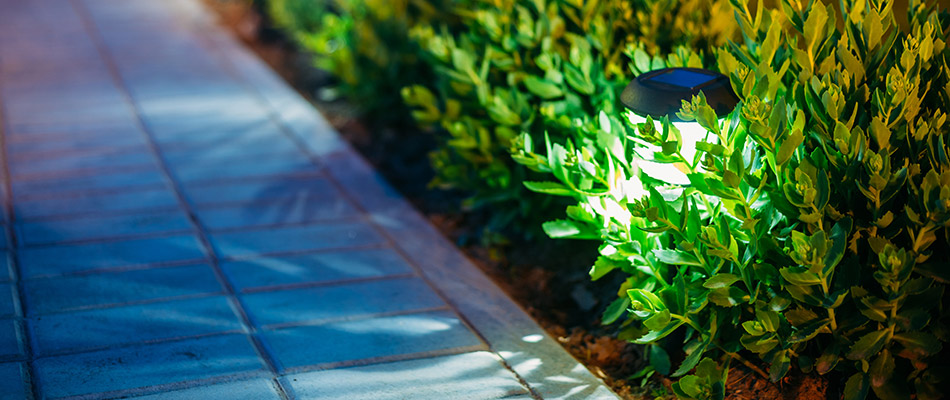 The sunset doesn't mark the end of your activity for the day; maybe you have invited some friends over to enjoy your patio or maybe you just simply need to use your walkway to get to your car. Installing outdoor lighting is one of the greatest ways to add safety and entertainment value to your home or business while also illuminating your favorite spots on your landscape. With a beautiful design of lights throughout your property, you no longer have to move the party indoors or break out a flashlight just to walk to your car.
We use low-voltage, LED lighting systems that offer a variety of benefits including color options and long-lasting bulbs. When you schedule our landscape lighting service, you will work with a crew of designers that will help you choose between many different techniques like uplighting, downlighting, spotlighting, and path lighting. We offer our outdoor lighting service to homes and businesses located in the Macungie, East Greenville, and Fogelsville, PA areas.
---
What's so great about LED lights?
When shopping around for outdoor lighting systems, the internet has a lot to say about the difference between LED bulbs and incandescent bulbs. At Lehigh Valley Lawn, we exclusively use LEDs for your landscape lighting. Our clients deserve the best, which is why we only offer the best! LED light bulbs have many benefits, including:
Energy efficiency. Save money down the line by using LED lights. One 6-watt LED bulb offers the same amount of light that a 40-watt incandescent bulb offers.
Safety value. LED bulbs turn about 70% of their energy into light, while incandescent bulbs turn a lot of their energy into heat. This is what causes incandescent bulbs to become really hot as they are used.
Long-lasting lifespan. LED bulbs can last for up to 50,000 hours while incandescent bulbs only last for about 2,000 hours.
A great range of colors. When you typically think of your everyday, outdoor lighting, it's common to think about white lights. However, LED bulbs can be showcased in a variety of colors like red, blue, and yellow.
Smart light technology. Connect your outdoor lighting with an app and control it all from your phone!
Already have LED lights? Our crew can install the lightbulbs that you already own.
---
Design Techniques Include Path Lighting, Spotlighting & Uplighting
So, now that you're convinced of how great LED lightbulbs are, it's time to discuss some fun design techniques! Below are just a few options that you can choose from. Our designers will help you choose which one works best with your landscape and its unique features.
Path lighting - This one is pretty simple! We use path lighting when we want to light up walkways throughout the property to make it safer to see as you and your guests are walking around.
Spotlighting - This technique is used when you want to highlight a certain area of your landscape.
Uplighting - Uplighting is usually used to show off a tree. We can place the lights at the base of your tree and point them upwards to illuminate it.
Downlighting - As you can probably guess, downlighting is the opposite of uplighting. We will place the lights above something on your landscape like your flower beds and showcase it. This technique is also used to place lights above garages.
---
Landscape Lighting for Your Homes & Businesses
Our family-owned company is here to create beautiful, custom landscapes for the Macungie, East Greenville, and Fogelsville, PA communities. Whether you're looking to place some lighting around your patio or you need a full set of landscape lighting for your commercial property, we're your team. Contact us at (484) 547-8246 and get started with us today.