We Offer Lawn Care, Maintenance, & Landscaping in Coopersburg, PA
Our services include lawn fertilization, weed control, flea and tick control, leaf removal, and much more!
Coopersburg is a borough of over 2,700 people located in Lehigh County, Pennsylvania. This suburb is known for its safe, family-friendly neighborhoods and its strong sense of community. There are plenty of fun activities available in Coopersburg, such as riding hot air balloons at Lehigh Valley Hot Air and rafting at Whitewater Rafting Adventures.
Our team here at Lehigh Valley Lawn provides top-notch lawn and landscaping services to the property owners in Coopersburg. The lawn care and maintenance services we offer include lawn fertilization, weed control, aeration, lawn mowing, leaf removal, and much more. Our landscaping services include landscape bed maintenance, mulch and rock installation, and plant trimming and pruning. We also offer pest control services like lawn insect control and sod webworm control.
---
Our Lawn Care & Maintenance Services Will Make Your Lawn Strong, Healthy, & Beautiful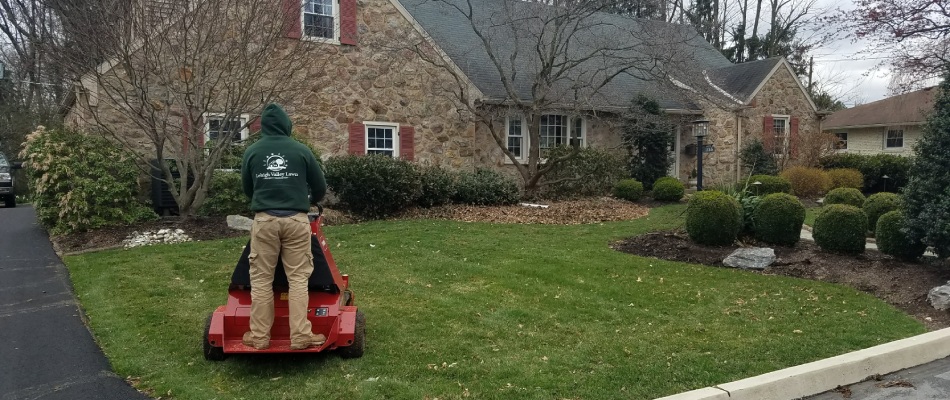 Our team offers a wide variety of high-quality lawn care services that are designed to improve your lawn's health and make it strong and healthy. We also provide maintenance services that will help you to keep your lawn looking beautiful throughout the year. The services we offer include:
Lawn fertilization: This program provides your lawn with all the nutrients it needs to thrive.
Weed control: Annoying weeds are no match for our highly effective weed control treatments.
Aeration: We offer both core aeration and liquid aeration treatments.
Overseeding: We will use a cool-season grass seed blend to overseed your lawn.
Sod installation: This service allows you to start over with a fresh, new lawn.
New lawn seeding: We will prep your soil and spread our premium seed blend over your yard.
Lawn disease control: Our experts can identify and treat a variety of common lawn diseases.
Lawn restoration: This process will encourage both new and existing grass to grow on your lawn.
Lawn mowing: This service includes mowing, trimming, edging, and debris blowing.
Leaf removal: We will keep your yard free of leaf piles this fall season.
---
Keep Your Landscape in Perfect Shape with These Services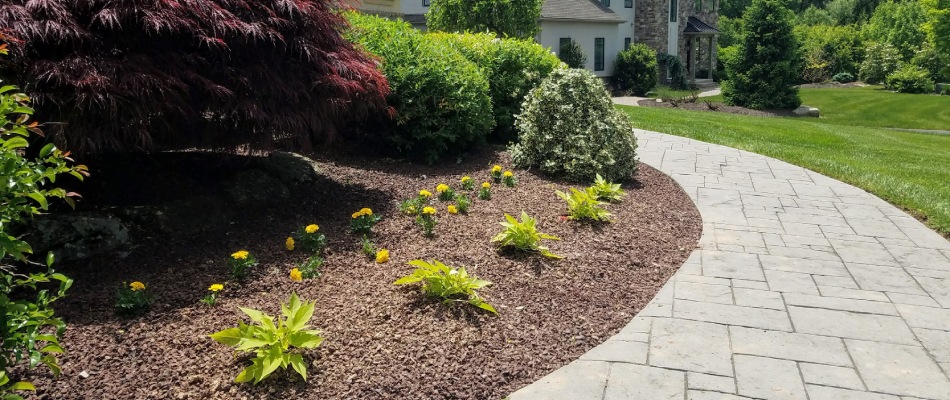 Here at Lehigh Valley Lawn, we offer the services you need to maintain the appearance of your landscape. Our experts will keep your plants and your landscape beds looking healthy and beautiful. The landscaping services we offer include:
---
These Pest Control Services Will Keep Your Property Free of Pesky Insects
No one wants pesky insects like grubs and sod webworms causing damage to their lawn. With our highly effective pest control services, you will not have to worry about pests taking over your property. Our pest control services include:
Our additional services include snow removal and drainage and grading!
---
Call us to sign up for any of our comprehensive lawn and landscaping services today!
For the last 21 years, our team at Lehigh Valley Lawn has offered high-quality services to the homes and businesses in Coopersburg, PA. We are devoted to providing our customers with the best lawn and landscaping services they have ever experienced. Give us a call at (484) 547-8246 to sign up for any of our comprehensive services today!