Our lawn care and landscaping services are available to homes and businesses in Emmaus, PA.
Increase your curb appeal by ensuring your lawn and landscape are at their best.
Located in Lehigh County, the borough of Emmaus, PA is home to more than 11,500 residents. Locals and visitors love this historic borough because of its small-town charm. Emmaus is located next to the South Mountain Preserve, which is known for its multitude of hiking trails.
At Lehigh Valley Lawn, we are glad to help homeowners and business owners in Emmaus, PA improve the health and curb appeal of their properties with our lawn care and landscaping services.
---
Our lawn care services boost the health of your grass and improve its vigor.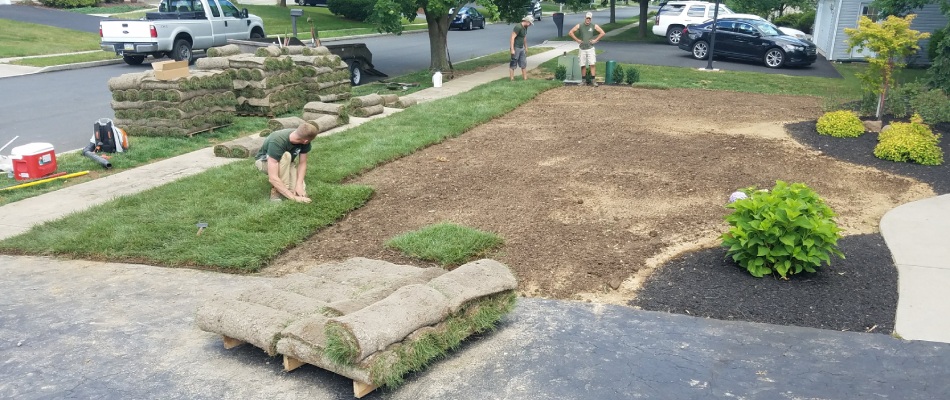 At Lehigh Valley Lawn, we are committed to helping your lawn reach its full potential by giving it everything it needs to survive and flourish. We will keep your lawn at its best health with our fertilization and weed control treatments which involve providing much-needed nutrients to your grass while eliminating weeds from your lawn. Our core aeration and liquid aeration lawn care services focus on loosening up compacted soil to help the roots of your lawn access key nutrients that help improve its vigor. You can then pair our aeration service with our overseeding service to promote fresh grass growth to fill in the weak, bare patches on your lawn.
If you want to start your lawn from scratch, we offer sod installation and new lawn seeding services, which both deliver exceptional results in the form of thriving and vibrant grass. Our crew also provides grub control and sod webworm control to eliminate these problematic pests from your lawn.
We also provide a 3-step lawn restoration program that will revitalize the health of your grass. Our lawn disease and insect control will clear lawn diseases like snow mold, red thread, leaf spot, and more from your turf. Our pros will also target common lawn insects in Emmaus, such as crane flies, chinch bugs, Japanese beetles, and more.
---
Enhance the Visual Appeal of Your Property With Our Landscaping Services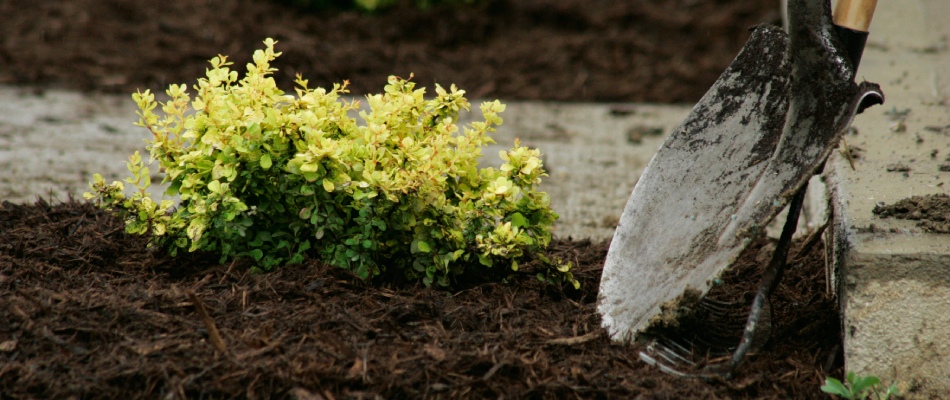 We know you'd rather spend your free time with your loved ones instead of out in the sun, mowing your lawn, or trimming your plants. Let our crew help with our landscaping services! We provide lawn mowing to keep your grass in Emmaus looking fresh and manicured and leaf removal to ensure your turf is not getting smothered by thick leaf piles. Our spring and fall cleanups will help keep your lawn and landscape beds in optimal condition.
Our landscape bed maintenance focuses on conserving the pristine shape of your landscape beds to preserve your curb appeal. We also install mulch and rock to give your landscape beds a clean and refined look while keeping your plants in tip-top health. Trimming and pruning are regular maintenance tasks for your landscape to ensure your flowers and plants look great and stay healthy.
We also help solve issues with drainage and grading, so you can rest assured water is redirected away from your property in Emmaus. You can also count on us to make your life easier during the holiday season by taking snow removal off your to-do list.
---
Call our pros today to schedule our lawn and landscaping services!
Our team at Lehigh Valley Lawn offers top-quality lawn and landscaping services to homes and businesses in Emmaus, PA. With 21 years of experience, we have mastered the skill of taking care of lawns and landscapes in our area! Call us today at (484) 547-8246 to schedule.