3 Questions to Ask When Scheduling a Professional Fall Yard Cleanup
The weather is slowly cooling off and the leaves are finally changing colors. These signs can only mean one thing: fall is nearly upon us! But there are more ways to prepare for the shift in seasons than simply breaking out the long sleeves and Thanksgiving recipes. Now is the perfect time to gear your lawn up for the seasonal change as well.
You can start by scheduling a professional fall cleanup service. However, it is important to note that not all fall yard cleanups are created equal. For instance, some companies include leaf removal in their cleanups, while others do not. We've come up with 3 important questions you should ask before scheduling. Does the yard cleanup service encompass leaf removal? Can I schedule a yard cleanup as a stand-alone service? What can I expect in your fall cleanup? All of these should be considerations when you choose a company for your professional fall cleanup.
---
1. Is leaf removal included in your fall yard cleanup service?
You would think that yard cleanups in the fall include leaf removal. However, contrary to popular belief, a lot of professional fall yard cleanups don't include this service. Instead, you have to schedule it as an add-on. Since leaves are probably the bulk of the debris that you want to have removed from your property, it is important to find out if this service is included in your fall cleanup.
Professional leaf removal is crucial to a fall yard cleanup and can prevent issues like lawn disease and insect infestation. Your lawn can experience these issues in the following ways:
Suffocation: Excess leaves can cause your grass to suffocate by reducing its airflow. Leaves allow water to remain trapped on the surface of your grass, which can suffocate it as well.
Insect infestation: Leaves naturally attract insects, so they can make the perfect hideout for insect infestation to go unnoticed.
Lawn diseases: Diseases can occur and spread throughout your turf when wet leaves are not removed.
A fall cleanup will not only improve the health of your lawn but your curb appeal as well!
---
2. Can I schedule a yard cleanup independently from your other services?
It's important to ask if a lawn company's fall cleanup is something that can be scheduled independently, as many places require that you schedule other services first. For instance, you may have to sign up for mowing or fertilization and weed control services before you can schedule a fall cleanup. This can be pretty frustrating, especially around the holidays when your money may already be allocated for other things. There are still companies out there that don't require this sort of inconvenience.
---
3. What can I expect in my fall cleanup package?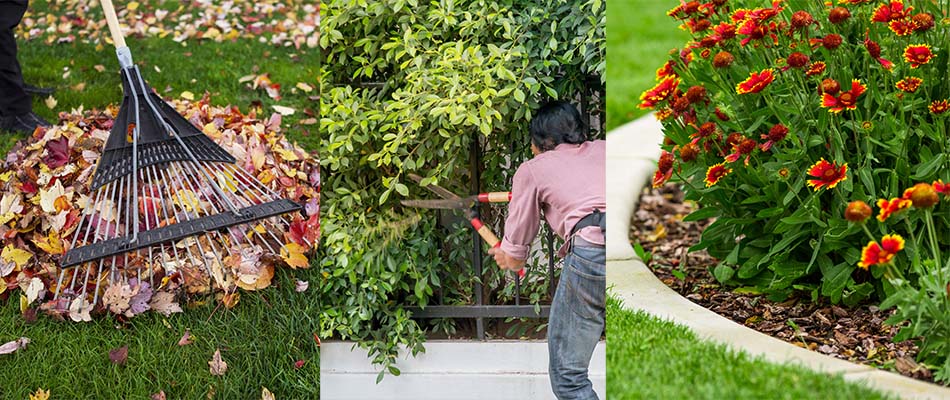 Before you sign on the dotted line, make sure to ask what a company will include in its fall cleanups. Not all of these packages are created equal, so in order to make sure that you are getting the most out of your cleanup, ask them to run down what you can expect to see included. Most fall cleanups should include the following services:
Leaf & debris removal using a vacuum truck
Landscape bed maintenance including plant reshaping and weed removal
Trimming & pruning of overgrown plants and any sick or dead branches
---
Are you looking for a company for your fall cleanups? Call us today to schedule!
At Lehigh Valley Lawn, you can sign up for a yard cleanup apart from any other services. Our company offers thorough fall cleanups from October to January. We'll go above and beyond to make sure that your yard and landscape remain tidy throughout the holidays. Our services are available to residential, commercial, and HOA properties in Macungie, East Greenville, Fogelsville, and surrounding communities in Pennsylvania. Give us a call today at (484) 547-8246 to schedule our fall cleanup service!
---
Comments (0)
Name *

Email (not shown) *

Thanks for your comment!
Thanks for your feedback! Your comments have been successfully submitted! Please note, all comments require admin approval prior to display.
Error submitting comment!
There is a problem with your comment, please see below and try again.